FB News
FB Roundup: Mohamed Mansour, Teh Hong Piow, Barry Sherman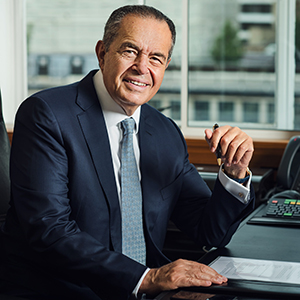 Egyptian-born businessman Mohamed Mansour appointed as Tory party senior treasurer
In the run-up to the next English general election, the Conservatives have appointed Egyptian-born billionaire Mohamed Mansour  (pictured left) as senior treasurer after his company, Unatrac, has donated more than £600,000 to the party.
"It is a great honour and privilege to have been appointed as senior treasurer of the Conservative party and a member of the treasurer's team of the party," Mansour said in a statement.
"The prime minister is making the hard choices that are necessary during a tough period for the country and, as a proud British citizen, I look forward to working with the team to support the party and the country."
A one-time transport minister under former Egyptian president Hosni Mubarak, who was removed from office in 2011 as part of the Arab spring, Mansour's appointment has been criticised by the Labour Party's chair Anneliese Dodds: "Just when you think the Conservatives have plumbed the depths of sleaze and scandal we have this: a billionaire who was a part of Hosni Mubarak's autocratic regime being put in charge of drumming up donations, to plug the gap left by those deserting this chaotic and stagnant government," she said.
The 74-year-old Mansour, who has an estimated net worth of $2.5 billion, according to Forbes, grew his father's Mansour Group cotton exporting business into the largest General Motors dealer in the world and the fifth largest distributor of Caterpillar Inc. products globally.
"I know what it is like to be hungry and to struggle to afford food or utility bills," Mansour said to The Telegraph. "I know that my life is very different today and I thank God for his blessings and for my good fortune. I have to pinch myself that I am not dreaming that 'Mo the waiter', as people called me, is now the senior treasurer of the party of Churchill!"
 
Tributes paid to Malaysian banker Teh Hong Piow
Malaysian Prime Minister Datuk Seri Anwar Ibrahim has led tributes to billionaire banker Teh Hong Piow  (pictured right) – the founder and chairman emeritus of Malaysia's Public Bank – who has passed away at the age of 92.
"His passing will certainly leave a big void for the Public Bank family, the banking sector and the country," said the Prime Minister. "I pray for the family of the late Teh to be patient and strong for their loss."
Teh established Public Bank in 1965 and was subsequently appointed as chief executive officer and managing director.
"Throughout his life, Teh had dedicated himself to build Public Bank as a strong banking group in Malaysia in support of the banking and finance industry," Public Bank said in a statement. "Teh had built a solid foundation and cultivated a strong corporate culture with a resilient business model for the Public Bank Group to continue on a solid growth path while navigating through challenges throughout the years."
Teh started his banking career as a clerk at Oversea-Chinese Banking Corporation in Singapore, before joining Malayan Banking, becoming the firm's general manager at age 34.
He then built Public Bank into Malaysia's second-largest lender with a market cap of $19 billion, building his own estimated net worth to $5.7 billion, making him the country's fourth richest person.
"Their Majesties greatly appreciate his contribution to the country's banking and financial industry as well as the economy" said the Malaysian Royal Family in a statement. "His passing is a great loss to the banking sector."
 
Son of murdered billionaires triples cash reward
The son of a billionaire Canadian couple who were murdered five years ago has tripled a cash reward for information about the unsolved crime.
Barry Sherman (pictured left), the founder of drug giant Apotex, and his wife, Honey, were among Canada's richest people and were well-known philanthropists, donating to hospitals, the University of Toronto and other causes. They are believed to have been killed in their Toronto home on December 13, 2017, in a "targeted" double homicide, after police initially believed the deaths to be a murder-suicide.
"Closure will not be possible until those responsible for this evil act are brought to justice," Jonathon Sherman, the couple's son, said in a statement. "I have been overwhelmed with pain, loss and sorrow and these feelings only continuously compound."
A $10 million reward had so far gone unclaimed and now Jonathon has added $25 million of his own money to increase the reward.
"This immeasurable pain is felt every day when I realise that my own two children will never have the privilege of meeting my parents who made their lives possible for me and my husband," he said. "I continue to miss my parents more than I can describe, and I am forever haunted by what happened to them."