Alternatives
FB ROUNDUP: Mohsin and Zuber Issa, Hans and Julia Rausing, Julian Robertson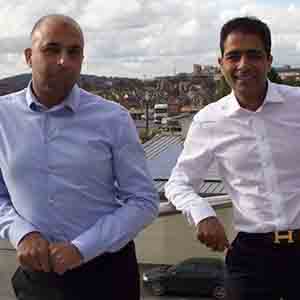 Billionaire Issa brothers purchase Co-op's petrol stations for up to £600 million
Mohsin and Zuber Issa, the billionaire brothers who own a majority stakeholder in UK supermarket giant Asda, have agreed to buy the Co-op group's petrol stations in a deal worth up to £600 million.
The British-Indian siblings, who made their fortune co-founding the Euro Garages chain of petrol filling stations, saw off a number of rival bids to finalise the deal.
"We have always been clear in our ambition to grow Asda and are hugely excited to create this new and distinct part of our business, giving us the opportunity to bring Asda value in fuel and groceries to even more customers and communities across the UK," said Mohsin Issa. "We see convenience as a significant growth opportunity for the business."
Asda was bought by the Issas for £6.8 billion in February, 2021, and the brothers are eager to grow the business, setting out aims to make it the UK's second biggest supermarket chain. According to Sky News, the Co-op deal will add another 129 petrol stations across the country to their collection, increasing Asda's current total of 323.
"This transaction is in line with our strategy to move away from operating petrol forecourts and supports our vision of co-operating for a fairer world while building our core leading convenience business," said Shirine Khoury-Haq, interim group chief executive officer at the Co-op. "I would like to thank our incredible colleagues in these stores and we will work closely with Asda to ensure a smooth transition."
Co-op, which currently has a net debt of £920 million, partly due to the effects of the Covid-19 pandemic, has said that the sale will allow the company to focus on its core retail business, including building new convenience stores, as well as growing its wholesale, franchise and e-commerce operations.
 
Hans and Julia Rausing donate to save historic 'Harry Potter' cloister
Billionaires Hans and Julia Rausing have donated £550,000 to restore a cloister at Gloucester Cathedral. The structure, which was completed around 1412 and featured in the Harry Potter movies is in "Urgent need" of repair, according to experts.
"The cloister, with its amazing fan-vaulted ceiling, is one of the most iconic and beautiful rooms in Gloucester Cathedral," said the interim dean of Gloucester, Canon Dr. Andrew Braddock. "Situated in the heart of the cathedral buildings, it is a place of encounter, reflection and wonder that attracts thousands of visitors every year.
"This project will ensure that the cloister remains open to all and will remain at the heart of the Cathedral's daily rhythm of life for generations to come."
The cloister's fan-vaulted ceiling was damaged when Victorian renovators tried to repair it with concrete.
"We are delighted to help ensure that this magnificent feat of medieval architecture is preserved so that visitors and worshippers can continue to enjoy it for hundreds of years to come," said the Rausings.
The donation is the latest charitable gift from the billionaire couple who inherited their wealth from the Tetra Laval tycoon Hans Anders Rausing. They set up the Julia And Hans Rausing Trust in July 2020 and have since donated £210 million, according to Tatler. This includes £15.3 million to help charities and other sectors that had been heavily impacted by the Covid-19 pandemic - including a gift of £3 million to Centrepoint, the largest single donation the homelessness charity has received in its 52-year history.
 
Hedge fund billionaire and philanthropist Julian Robertson passes away aged 90
Tributes have been made to billionaire American hedge fund innovator Julian Robertson, who passed away last week at the age of 90.
"Julian was a pioneer and a giant in our industry, respected as much for his abilities as an investor as for the integrity, honesty, loyalty and competitiveness he demonstrated as a leader," said billionaire hedge fund manager Chase Coleman. "He made the time to be a true mentor, always leading by example and pushing all of us to become the best versions of ourselves."
Robertson helped introduce a new and simple approach to trading - buying what he thought were the best companies and then betting against the worst ones. His success led him to huge financial success, with a net worth of $4.8 billion, according to Forbes.
 "Our mandate is to find the 200 best companies in the world and invest in them and find the 200 worst companies in the world and go short on them," Robertson once explained. "If the 200 best don't do better than the 200 worst, you should probably be in another business."
He co-founded Tiger Management in 1980 and he grew the fund to around $22 billion (according to Reuters) with an average annual return of 32%. He later shut down his fund in 2000 following two years of consecutive loses, saying he did not believe in "Subjecting (his investors) to in a market which I quite frankly do not understand."
Robertson committed much of his life charitable work. In 1990, he set up the Tiger Foundation with his friend John Griffin, which was aimed at alleviating poverty in New York. In 1996, he and his wife Josie set up the Robertson Foundation, which specialises in helping in three specific areas; education, the environment and medical research. They gave away $1.3 billion via the organisation and the overall lifetime figure of all their charitable donations is estimated to be around $2 billion (according to Institutional Asset Manager).
In his pledge letter, he stated "One very fortunate thing is that I did not get nearly as enthusiastic about philanthropy early on as I am now; if I had there would be very little to give away."