FB News
FB Roundup: Lord Alli, Mark Mateschitz, Wu Yajun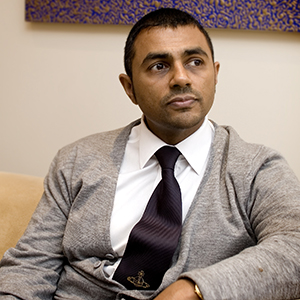 Lord Alli named as chairman of Marwyn Acquisition Company
Lord Waheed Alli, the former head of children's media group Chorion and online fashion retailer Koovs, has stepped up as chairman of Marwyn Acquisition Company (MAC), a listed company targeting takeovers in the creative industries.
According to Sky News, the Labour peer's appointment, which comes as the company seeks shareholder approval to be renamed as 450 plc, will lean on his past experience in identifying companies with "Capital constraints but which were otherwise primed to expand". The former chairman of online fashion and cosmetic retailer Asos, Lord Alli has had a long and successful career in the media industry, starting with the co-founding of Planet 24, the production company behind The Big Breakfast, The Word and Survivor.
After Planet 24 was sold to Carlton Productions - now known as ITV Studios - in 1999, Lord Alli went on to co-found another TV production company, Shine, and chair Chorion, which had a portfolio of brands including Paddington Bear, Peter Rabbit and The Mr. Men, as well owning the rights to the Agatha Christie, Raymond Chandler and Georges Simenon estates.
He later founded Silvergate Media, which went on to acquire the intellectual property and distribution rights to popular kids' show Octonauts, before selling the company to Silvergate to Sony in 2019.
Lord Alli's new role, which has previously overseen takeovers of Advanced Computer Software, BCA Marketplace, Breedon Aggregates and Entertainment One, aligns with MAC's ongoing "Investment strategy of seeking acquisition opportunities in the financial services, consumer and technology sectors."
 
Three-member CEO board to lead Red Bull after death of Dietrich Mateschitz
Following the death of Dietrich Mateschitz from pancreatic cancer in October, Red Bull has announced that a three-member board will be appointed to continue the running of the energy drinks giant.
While Mateschitz's only son Mark stands to inherit his father's estimated $25 billion fortune, Franz Watzlawick, Alexander Kirchmayr and Oliver Mintzlaff have been named as  the board of directors.
"As proposed and desired by both my father and myself, and supported by our Thai partners, a board of directors will manage the business affairs of Red Bull," Mark Mateschitz confirmed in a statement.
Watzlawick will step up chief executive officer of the beverage business, Kirchmayr is the chief financial officer and Mintzlaff the chief executive officer of corporate projects and investments.
In the statement, Mark Mateschitz described the trio as a "Dream team".
"I am very happy they will be taking on this task," he said after confirming that he will be stepping down from his role on the board of the Red Bull Wings for Life Foundation to manage the 49% stake in the company he inherited from his father.
Dietrich Mateschitz founded Red Bull in 1980s with Thai entrepreneur Chaleo Yoovidhya, who created Krating Daeng, the energy drink that would later be adapted into Red Bull. The company now employs approximately 13,000 people in 172 countries with an annual turnover of eight billion euros and nearly 10 billion cans sold per year.
 
Wu Yajun steps down as chair for real estate developer Longfor
The billionaire co-founder of Chinese real estate developer Longfor Properties, Wu Yajun, has officially stepped down as chair in the wake of an industry-wide crisis that saw company shares fall by as much as 38%.
The 58-year-old business leader and former journalist, who was at one time the world's richest self-made woman, announced her decision to leave due to age and health reasons, but has confirmed she will "Continue to advise the company on its strategic development".
40-year-old Chen Xuping, who joined the company in 2008 as a construction manager, has been announced as Wu Yajun's successor.
China real estate industry is undergoing a major crisis with house prices dropping for 13 months in a row and buyer confidence at an all-time low. Despite this, Longfor is considered to be in a stronger position than rivals such as the now defaulted China Evergrande Group.
"Longfor is experiencing management changes when the industry is undergoing a lot of difficulties," said Hong Kong-based securities strategist Kenny Ng to Forbes. "Investors are worried about how it would cope with the challenges."