FB News
FB Roundup: David and Simon Reuben, Tyler and Cameron Winklevoss, Mike Lynch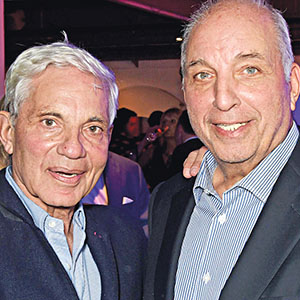 David and Simon Reuben "exploring ways" to finalise LA real estate deal
According to Bloomberg, Indian-born British businessmen David and Simon Reuben are "exploring ways to finalise one of Los Angeles's biggest real estate projects after taking control over major parts of the $2.5 billion plan through debt financing deals."
The billionaire brothers, who in May 2020 were named as the second richest family in the UK by the Sunday Times Rich List, are in talks with the US property developer behind the Century Plaza site after it defaulted on loans during the Covid-19 pandemic, according to a statement from their firm, Reuben Brothers.
The Reubens are now, according to a statement, "engaged in discussions on a forbearance agreement with the borrower, Next Century Partners, controlled by Michael Rosenfeld, to ensure the project will move forward."
The near-complete project, which includes a five-star hotel as well as retail stores and residential units, will "Cement itself as a premier luxury residential complex in the centre of Los Angeles," continued the statement.
The Reubens, who manage one of the world's biggest portfolios of retail, office and residential properties, were born in India, moved to London as teenagers and built their fortune trading metals and later investing in real estate, leisure and technology companies.
The brothers - David, 84, and Simon, 81 - have a combined net worth of $13.6 billion, according to the Bloomberg Billionaires Index.
 
Winklevoss twins give $100 million personal loan to own crypto exchange
Tyler and Cameron Winklevoss, the billionaire tech twins and founders of Winklevoss Capital, have made a $100 million personal loan to their embattled cryptocurrency exchange Gemini Trust.
Having faced a number of setbacks following a bad year for crypto and digital assets, the siblings made the loan after, according to The National, "Gemini had informally sought funding from outside investors in recent months without coming to any agreements".
Following the collapse of Sam Bankman-Fried's crypto exchange FTX and a subsequent drop of 80 per cent to $2.4 billion in the tech and crypto industries (according to PitchBook), Gemini has since struggled to gain traction, leaving $900 million of customer money in limbo and sparking a falling out between the brothers and Barry Silbert, chief executive of Digital Currency Group, the parent company of Genesis.
The twins, who famously "inspired" Mark Zuckerberg to create Facebook (and who subsequently sued the Meta boss in a high-profile legal case), have since "reached an agreement in principle to resolve the dispute, under which Gemini would kick in as much as $100 million".
Now, according to The Fintech Times, Gemini is set to expand to the Asia-Pacific (APAC) region with its first office in Gurgaon, India.
Pravjit Tiwana, the current global chief technical officer of Gemini, will be taking the position of APAC chief executive officer, with responsibility for new product launches and ensuring financial stability.
"Gemini has big plans for international growth this year in APAC," said Tyler and Cameron Winklevoss in a statement. "This initially involves building out product and engineering teams in India. We will also be expanding our business teams in both India and Singapore to execute GTM [go-to-market] strategies focused on growing our individual and institutional customer base in this region."
 
Mike Lynch loses bid against US extradition
The co-founder of Autonomy Corporation and founder of Invoke Capital has been ordered by the London High Court to answer to 17 fraud charges over the sale of his software company, Autonomy, to Hewlett-Packard (HP) in 2011.
Dr Lynch has been accused of deliberately overstating the value of his business before it was acquired by HP for $11.1 billion more than ten years ago.
Dr Lynch, who has always denied any wrongdoing from the deal in which he personally made $800 million, has argued that he was being made a "scapegoat" for mismanagement by HP after the extradition ruling.
"The applicant's extradition has been sought… so that he can stand trial in California for fraud," Lord Justice Lewis and Mr Justice Julian Knowles said in a written ruling. "The American prosecutors have described the case as 'one of the largest frauds ever prosecuted by the United States Department of Justice'. The value of the alleged fraud runs into the billions of dollars."
"Dr Lynch is very disappointed but is reviewing the judgment and will continue to explore his options to appeal, including to the European Court of Human Rights," said a spokesman for the entrepreneur who has a PhD in signal processing.
A High Court judge in January found that HP had "substantially" succeeded in a civil case in which Dr Lynch and Autonomy's former chief financial officer Sushovan Hussain lost a multibillion-dollar fraud action for around $5 billion.