FB News
FB Roundup: Mike Ashley, Leonard N. Stern, Robert Hersov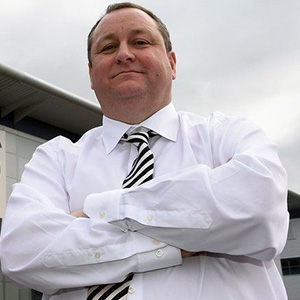 Mike Ashley plots historic Savile Row tailor takeover
Frasers Group, the shopping empire founded by British retail billionaire Mike Ashley, is among the remaining bidders contending for ownership of the historic tailors Gieves & Hawkes, according to Sky News.
The holder of three royal warrants and responsible for dressing major figures from Lord Nelson to Sir Winston Churchill and the newly anointed King Charles III, Gieves & Hawkes is being sold after its Hong Kong-based owner Trinity Group fell into liquidation. The tailor was formed in its current incarnation in 1974, but it can trace its history back to 1785 and 1771 with the establishment of the Gieves and Hawkes tailoring labels respectively.
Based at 1 Savile Row, the London street which has been synonymous with bespoke menswear for centuries, Gieves & Hawkes has suffered in the wake of the COVID-19 pandemic and the collapse of Trinity Group – which was in turn owned by the now-defunct Shandong Ruyi Technology Group.
Ashley's involvement in the Gieves & Hawkes auction follows recent successful acquisitions of high street brands Jack Wills and Missguided and an ongoing legal battle over the collapse of department store giant Debenhams.
Ashley, who has a net worth of $4.5 billion according to Forbes, started his empire in 1982 with a £10,000 loan from his family to open his first sports and ski shop, going on to form Sports Direct (in which he owns a 61% stake) and establishing a successful tactic of buying struggling firms which has seen him take control of household names such as House Of Fraser, Evans Cycles, Mulberry, Game and Lillywhites.
"We are confident we will find the right partner who can bring its expertise and resources to help drive future growth, maximise its value and take it to the next level," said Daniel Chow from FTI Consulting, which is handling Shandong Ruyi's liquidation and the sale of Gieves & Hawkes.
 
Robert Hersov plans to buy multiple South African airports
Cape Town-based billionaire entrepreneur and private investor Robert Hersov has announced he is approaching South Africa's Department of Public Enterprises to purchase six government-owned regional airports.
Speaking to Business Report, Hersov and his business partner Nick Ferguson plan to bid, through their company RSA.aero, for regional airports in George, Gqeberha, East London, Bloemfontein, Kimberley and Upington.
Hersov, who is chair and founder of Invest Africa and African Capital Investments and also founded Marquis Jet Europe (which he later sold to leading private jet company NetJets), said he and his partner saw the opportunity to turn the airports into "Successful money-making enterprises".
"Selling the regional airports to investor-operators like us who have the funds and the relevant skills is a chance to save and grow the regional airports," said Hersov. "We are interested in buying only the six regional airports of ACSA (Airports Company South Africa). We will pay two billion Rand [$117 million] for them and invest a significant amount going forward in upgrading and improving them."
However, South Africa's transport minister Fikile Mbalula has said the government is not looking to sell ACSA to private shareholders in the foreseeable future, despite the South African aviation industry suffering from the collapse of domestic airline Comair and the recent inflation in the price of jet fuel - which has increased by 220% over the past year.
Earlier this year, South Africa's Department of Transport announced that the government would give increased attention to the country's airports, including expanding international airports into large "aerotropolises", while further investing in traditionally less profitable regional airports.
 
Leonard N. Stern reportedly agrees to return ancient artifacts to Greece
A collection of 161 ancient artifacts reportedly belonging to 84-year-old billionaire Leonard N. Stern are being restituted after Greece has confirmed a deal for their return.
The collection, which contains items up to 4,000 years old, represents "Extremely rare or even unique examples of the art and artisanship of the third millennium BC Cycladic civilization, and offers new data to scientific knowledge of the period," said Yannis Oikonomou, a spokesperson for the Greek government, in a statement to the Associated Press.
Stern was in the process of donating the collection to a cultural institution in Delaware, but it is now set to be redirected and exhibited at New York's Metropolitan Museum of Art and the Museum of Cycladic Art in Athens before going on permanent display in Greece, once the Greek Parliament approves legislation ratifying the agreement.
"This creates a procedure and a means that encourages other collectors of Greek antiquities to make similar moves that don't carry the disadvantages of a court process," said Oikonomou.
Little is known on the provenance of Stern's collection, a one-time owner of New York alternative newspaper The Village Voice who made his fortune through his father's pet supply company Hartz Mountain Industries and has since diversified into real estate and renewable energy.
"[They are] Masterpieces of unique archaeological and scientific value that Greece is getting without a messy court battle," said Greek culture minister Lina Mendoni. "They won't return tomorrow... But they will return."
While Mendoni said there was no evidence that the collection was illegally exported from Greece ("We may understand that, we may sense it… We can't prove it," she told the Greek parliament), she is thankful for the impending return.