FB News
FB Roundup: Sir Leonard Blavatnik, Mitchell Rales, Thomas Lee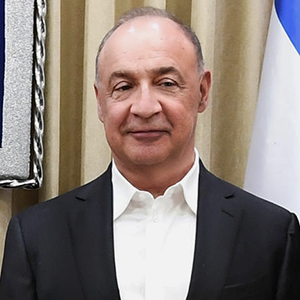 Sir Leonard Blavatnik helps London's V&A Museum to secure David Bowie archive
The extensive archive of the late singer-songwriter David Bowie will be made available to the public from 2025, thanks to a donation of £10 million from the Ukrainian-born businessman and philanthropist Sir Leonard Blavatnik through his Blavatnik Family Foundation.
The archive will go on display at London's Victoria and Albert (V&A) Museum following the highly successful exhibition, David Bowie Is…, which marked the first time a museum had been given unprecedented access to the David Bowie Archive.
"[The archive reveals the] creative processes of one of the most pioneering and influential figures in the history of live and recorded music, film, fashion and beyond," said the V&A in a statement. 
Including more than 80,000 items, the archive covers Bowie's creative career from the 1960s up to his death in 2016 and will be housed at the specially created The David Bowie Centre for the Study of Performing Arts at V&A East Storehouse, in Stratford's Queen Elizabeth Olympic Park.
Highlights include the famed Ziggy Stardust stage costumes, handwritten lyrics for songs including Fame, Heroes and Ashes To Ashes, and instruments including Brian Eno's EMS Synthesizer from Bowie's seminal album Low.
"We are very proud to support the V&A and allow for the creation of this irreplaceable archive to preserve and showcase David Bowie's iconic career," said Sir Leonard Blavatnik, who received a knighthood for services to philanthropy in 2017. "His influence on music and popular culture throughout the world cannot be overstated."
"Our new collections centre, V&A East Storehouse, is the ideal place to put Bowie's work in dialogue with the V&A's collection spanning 5,000 years of art, design and performance," said Dr Tristram Hunt, director of the V&A. "My deepest thanks go to the David Bowie Estate, Blavatnik Family Foundation and Warner Music Group for helping make this a reality and for providing a new sourcebook for the Bowies of tomorrow." 
Through his Access Industries Holdings, Blavatnik owns most of Warner Music Group and has stakes in several publicly traded assets which has boosted his net worth to $35.4 billion (according to Forbes).
 
Mitchell Rales gifts $1.9 Billion to his own art museum
Mitchell Rales, the American billionaire who co-founded the globally diversified conglomerate Danaher Corporation, has donated $1.9 billion of his fortune to his own Glenstone Foundation contemporary art museum - one of the largest-ever personal donations to the arts.
The gift, which elevates Glenstone's endowment to a level that rivals New York's Metropolitan Museum of Art (according to Bloomberg), will support the operation and expansion of the Maryland-based private museum founded by Rales and his art historian and curator wife Emily in 2006.
The donation, which was disclosed in Glenstone's 2021 tax return, brings the foundation's net assets to $4.6 billion.
Located in Potomac, Glenstone – which also serves as the Rales' personal residence – features modern-art works by Cy Twombly, Robert Gober, Charles Ray and more.
"We envision Glenstone not only as a place, but a state of mind created by the energy of architecture, the power of art and the restorative qualities of nature," said Emily and Mitchell Rales.
"At the core of the museum is a collection of post-Second World War art, a very personal project driven by the pursuit of iconic works that have changed the way we think about the art of our time."
With an estimated net worth of $7 billion (according to Forbes), Mitchell Rales acquired a real estate investment trust in 1983 with his brother Steven before merging it into Danaher. Subsequently, they have acquired around 40 companies and turned Danaher into an industrial firm with $29.45 billion in revenue.
 
Tributes paid to billionaire financier Thomas Lee
Thomas Lee, the renowned private-equity pioneer who famously bought soft drinks brand Snapple for $135 million in 1992 and sold it for a 334 per cent profit to Quaker Oats, has passed away at the age of 78 after reportedly taking his own life.
The private-equity pioneer ran the Boston-based Thomas H. Lee Partners from 1974 until his resignation in 2006, at which point the company had an investment fund of $12 billion thanks to a series of successful deals.
With a reputation for forgoing ruthless tactics, Lee was hailed as "That rare thing on Wall Street - a genuinely nice guy," by Forbes in a 1997 profile. "He is also a real innovator in the deal business," the publication went on to say.
"Tom was an iconic figure in private equity. He helped pioneer an industry and mentored generations of young professionals who followed in his footsteps," said Todd Abbrecht and Scott Sperling, co-chief executive officers at Lee's former company, now known as THL. "More importantly, he was a generous and gracious individual who cared deeply about his friends, his family and his community."
With a mantra of "You're better off paying a steep price for a great company than getting a so-so company at a bargain price," Lee bought and sold a variety of brands and companies throughout his career, including Ohio-based Sterling Jewelers, Dunkin' Brands (which franchises Dunkin' Donuts and Baskin-Robbins ice cream shops), junior fashion retailer Deb Shops and pizza chain Papa Murphy's International.
"Tom always focused on the business outcome for his investors, not his personal profile," said Edgar Bronfman Jr, who worked with Lee to buy Warner Music Group in 2004.